March 2017 CTP update
The Law Society of NSW notes that the Motor Accident Injuries Bill 2017 ("Bill") to provide for a new compulsory third-party ("CTP") motor accidents scheme in NSW passed NSW Parliament on 30 March 2017, and is now awaiting Royal Assent. The new CTP scheme is expected to commence in December 2017.
This is the outcome of a 15-month reform process, during which the Law Society has worked closely with the NSW Bar Association and the Australian Lawyers Alliance to jointly advocate to the Government on CTP reform.
Throughout the consultation process, the legal professional bodies have advocated in favour of upholding fairness for injured motorists by retaining access to adequate benefits, and preserving access to legal advice and representation in the scheme.
"CTP Changes: Adding Insult to Injury"
 In March 2016, the Minister for Innovation and Better Regulation, the Hon Victor Dominello MP, announced that the NSW Government would be undertaking a review of the NSW CTP Green Slip Scheme. The stated aim of the Government's proposed changes to CTP is to put downward pressure on Green Slips. We know that the real aim of the changes is to deliver CTP premium reductions to marginal seats in NSW ahead of the next state election - but this can only be achieved at a huge social cost to the community.
The NSW Government's new scheme, which was announced on 29 June will reduce benefits for up to 90 per cent of innocent injured victims in NSW, whilst supporting around 7,000 "at fault" drivers. To pay for the government's CTP scheme even people with severe injuries which stop them from doing their jobs could be forced to rely on welfare or family when their benefits are cut off after 5 years. These reforms will see a workers' compensation type scheme for those injured in motor vehicle accidents, with the majority of benefits drip fed. 
Anybody who uses the roads in this state should be worried about the Government's proposed CTP changes.
The Law Society of NSW will continue to advocate on the strongest possible terms for a scheme that delivers benefits to those injured in motor vehicle accidents, and retains access to legal representation. We are also urging people to raise this critical issue with your local parliamentarian to help ensure that NSW has a fair accident claims process.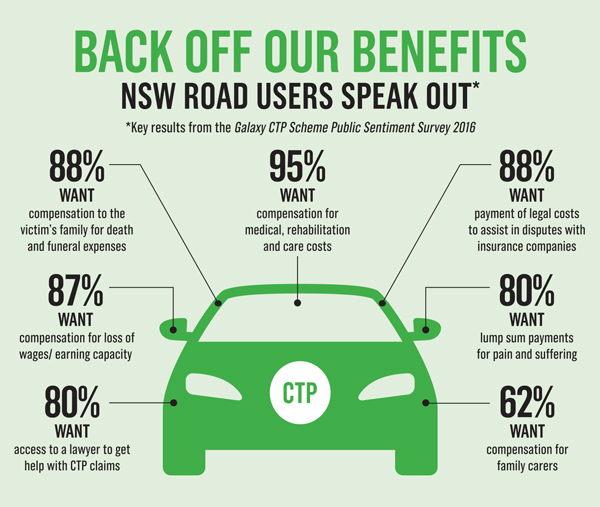 Case studies

These changes will be particularly unfair for those who had a long working life ahead of them before their accident - like Sandra.
After being injured in a motor accident, 30 year old Sandra's coffee cart business folded as she was unable to work due to her injuries.
Sandra hasn't been able to work since the accident, is in constant pain and cannot walk without the use of a walking stick. She is highly dependent on her family and has little or no prospect of retuning to full work.
Assessed at not greater than 10% whole person impaired, under the Government's new scheme, Sandra's benefits would be cut off after 5 years and she would be left to rely on welfare payments or family for support. She now faces further back surgery.

Injured motorists will sooner or later be abandoned to rely on welfare or family support through no fault of their own - motorists like Mark.
Mark from Parramatta, a 43-year-old male cementing business owner with five young children, was rear ended by a semi-trailer. Mark suffered whiplash and injured both his back and neck in the accident. He now has permanent serious problems with his shoulders and neck and the impact on the family has also been huge. Due to his injuries, Mark is unable to return to his job but isn't qualified to do other work. Because Mark's 'whole person impairment' is less than the 10% threshold, his benefits would be cut off after 5 years, even if he can't do his job.
What was being proposed under the Government's reforms?
Under the NSW Government's proposed "no-fault" CTP Green Slip scheme, everyone would have access to the same compensation.
The majority of motor accident victims would be drip-fed reduced benefits by insurance companies.
For most accident victims, benefits would be cut off after five years, regardless of whether they are able to return to work.
The knock on effects of the new system would be particularly severe for those who had a long working life ahead of them before their accident.
Only people with the most debilitating injuries, exceeding 10% whole person impairment, would be able to seek substantial lump sum damages.
The vast majority of motor vehicle accident victims would fail to reach this 10% threshold.
What would this mean?
The NSW government claimed the changes would result in a $100 reduction in CTP premiums.
This would be only a short-term gain.
In the long-term, motor accident victims and their families would pay the price as the number of claims rises dramatically and benefits are slashed to maintain insurer profits.
What would it cost?
A "no-fault" scheme is financially risky and would not be underwritten by the NSW government.
The Government's proposals would generate more claims, cost more to administer and pay out less to injured motor accident victims.
No model exists for a "no-fault" scheme to be privately underwritten, as would be the case in NSW. If the scheme failed, insurance companies could simply walk away.